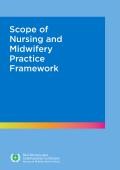 *** IMPORTANT ***
NMBI launched its new Scope of Nursing and Midwifery Practice Framework Tuesday 29 September 2015. 
The launch of the revised Scope Framework concludes the NMBI 2 year project to update the guidance document first published in 2000.

The new Scope framework and accompanying decision-making flowchart provides guidance to nurses and midwives in determining their roles and responsibilities in clinical practice .
It is critical members familiarise themselves with the new Framework  and Decision-making algorithm for evidence based decision making and risk assessment
Download Scope of Nursing and Midwifery Practice Framework (7.6 Mb)

Download Decision-Making Flowchart (.5Mb)
Download the Glossary from the Scope of Nursing and Midwifery Practice Framework (.8Mb)